Dyed4you Ministries is unique in that the purpose behind our creations is primarily about facilitating and encouraging dialog with God. The fact that we are equipping people with tools for worship and intercession is secondary to that. Our heart is to foster and encourage deep relationships with God, and everything we do is intended to further that God-given mission. (See examples of our silk below or our art in our Dyed4you Art gallery.)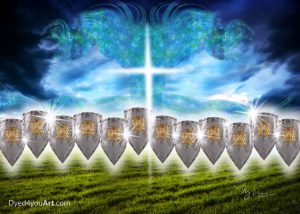 With that said, our silk letters and the words that go with our art are birthed with much prayer. We have a team of prophetic intercessors that support the ministry. They collaborate with us on the words that go with the silks and art. Sometimes one person will get the whole download, sometimes the team will have what I call "prophetic banter" for days online. This works a bit like a treasure hunt. Each of us working to bring the pieces He has for us (see Gelah Raz (Revealer of Mysteries)). When we collaborate as a team, we're contributing pieces as we receive them, and also indicating which pieces bear witness that others have contributed. In the end, someone will compile it into the final format (after submitting it to the team for vetting).
In 2018, we shifted our focus away from asking the team simply birthing the letters for our silk and art, and instead on cultivating an environment within our team that nurtures the prophetic outpouring as each team member takes time to "listen." As such, the team began sharing the downloads they were getting without them needing to connect to a particular Dyed4you piece. Over time we've found an increase in the outpouring and that silks and art have come forth from the words the team members have shared (as well as those pieces fitting into words either that were in the midst of being birthed, would be in future, or as an expansion to ones that already had been). Many of those downloads are available on our blog. Truly it has been both humbling and amazing to see how Papa has worked through this ministry and to watching the giftings of the team members (including my own) grow during this time.
Over time we've also discovered that two people can receive the same word and hear two completely different things through them because they're being filtered through where God has them at that moment. It's not about it being a "new" word, it's about it being the "right" word. So with silks – as with our art, our process begins with God answering the question of whether the recipient is getting a new creation or one that already exists (we have databases for both the silks and the art with all the words we've birthed since 2008 when we started collecting them there so we could update and expand them as the Lord leads).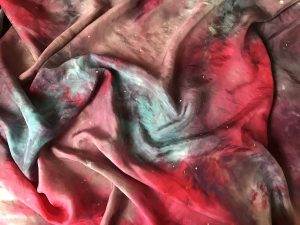 Here's a list of some of the things you may find in one of our silk letters or the words that go with our art:
Name
Scripture(s)
On silks, colors meanings
Hebrew or Greek words that relate and their meanings or history
Definitions of word God wants to highlight
Visions or other prophetic download
Quotes of or references to song lyrics or poems
Quotes of prophetic words, meditations on the word, or prophetic downloads we have approval to share including:
Quotes of or references to prophetic words, articles, books, or posts from other ministries, including:
On silks, we include which Scent of Heaven anointing oil we anointed the silk with (just to note, we anoint for the purpose of consecration not adding a fragrance)
Anything else the Lord nudges us to include
Read some Silk Words on our blog (all our released art words are shared in our Dyed4you Art gallery). We have some awesome testimonies – both for the silks and the art! We love hearing when something we've shared brings confirmation (see how-to receive a prophetic word) – anything that draws people closer to the Father, helps them grow in their confidence of hearing His voice is a beautiful thing and we LOVE being part of it.
If you have a silk or an art story to share, please let us know! It not only encourages us, but others too. 🙂
Bless you as you seek Him
Examples
Below are just a few examples of silks we've created. We literally have hundreds of styles (i.e. silk letters) we've made and more are birthed regularly. This grouping are just the ones I had pictures of on hand to share that give ideas of some of the silks that have come forth.