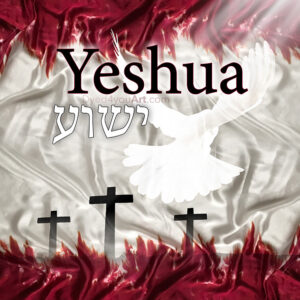 This is our Yeshua flag, which features our The Blood silk. This flag is part of our "Names of God" Dyed4you Art flag line. Each of these flags feature an image of a related Dyed4you silk, the word for which is included as part of the word that goes with this flag. Additionally, these flags are anointed with the same oils as the original silks.
The Hebrew lettering on this flag says: Yeshua, which means salvation. This name comes from Exodus 15:2 (CSB) [emphasis mine] "The LORD is my strength and my song; he has become my salvation. This is my God, and I will praise him, my father's God, and I will exalt him."
Jesus name in Hebrew is Yeshua. He is our savior. His name declared Him as such long before the cross. This art captures both His sacrifice at Calvary, and the moment of God's declaration of who He is as well as His infilling of the Holy Spirit which we find in Luke 3:22 (NKJV) "And the Holy Spirit descended in bodily form like a dove upon Him, and a voice came from heaven which said, 'You are My beloved Son; in You I am well pleased.'" As you use this piece in intercession and worship, you are coming into agreement with the finished work of the cross.
John 19:30 (NLT) When Jesus had tasted it, he said, "It is finished!" Then he bowed his head and released his spirit.
Isaiah 1:18 (KJV) Come now, and let us reason together, saith the Lord: though your sins be as scarlet, they shall be as white as snow; though they be red like crimson, they shall be as wool.
Note that some firmly believe in variety of spellings of the name Yeshua. And though we know some people firmly believe in using one version over another, we've chosen to use what we believe is the most recognized Hebrew version of His name.
Just as we see earthly loved ones smile as their earnest family or friends slaughter the pronunciation of their names, so we trust that grace will be extended to us as we call upon our Savior. We believe His primary concern is that we are in fact calling on Him, and the fact that we are gives Him much pleasure.
The name of the silk in this piece is The Blood.
It has been prayed over and anointed with the Scent of Heaven's Atoning Blood oil. Here's more about the history and meaning of this oil:
The Lord showed Carol an oil with one red bead in it. She asked Him, "Lord, what is its name?" He said, "it is my atoning blood." So she asked Him what should go in it. She heard nothing for almost two months so she waited. Then on Good Friday in a special time of worship He started telling her what was to go in it and why.
Sandalwood (it takes 30 years before they harvest from the tree by cutting and bruising it), Labdanum (which is the rock rose called Rose of Sharon), and Myrrh (from His beginning with the wise men to His end on the cross). It tells His story.
So often we forget how significant a price was paid for our freedom. A freedom we take for granted and so often give to needless activities while neglecting the One who loved us enough to free us. This is a reminder of the price He paid.
May your heart be filled with the knowledge of the declaration and seal of Christ's love and sacrifice! We pray it blesses you!
NOTE: If you're wondering why I've shared this art flag letter, I explain on my personal blog in a post called God Speaking Through Silk why I began sharing these on my personal blog. Later, I felt led to share some on the Dyed4you Ministries blog as well. So I share some here and some there (you can find the ones there in the silk words and Dyed4you Art Flag category). To find out more about the words we birth – including how they are created and what is typically included – visit our About Our Silk Letters and Art Words page.