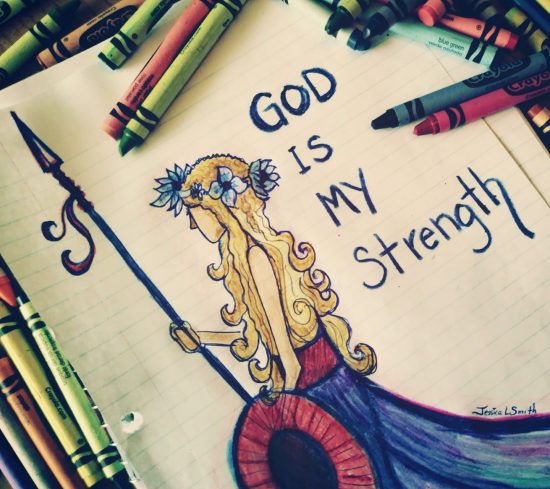 Ephesians 6:16 "Above all else, taking the Shield of Faith with which you will be able to quench all the fiery darts of the Wicked One!"
Several years ago, during a time of being beaten down by the devil, I cried out to the LORD in prayer for help. I was drowning in despair. I simply couldn't win the battles of life. I was stressed, tired, and in anguish. I wanted to die. Then God showed up as He always does.
I had a dream. In the dream, the Holy Spirit came to show me my error. He stood at my right side. His presence was soothing, strengthening, and forever desirable.
Then suddenly Satan also showed up. He took a very close stance just a few yards in front of me and began to shoot me continually with arrows. These sharp darts were piercing through my chest and plunging deep into my soul. The Holy Spirit spoke into my ear, "Do you see?" He drew my attention to the arrows inside of my soul. I understood now why I was in so much pain.
I looked inside of my inner being and saw these "fiery darts." They were dangerous and causing damage. These sharp arrows pierced through my chest and entered deep inside and immediately began to dissolve into deadly poison until the arrow disappeared.
Any arrow that was not immediately removed dissolved into a poison that began to travel through my entire body, soul, and mind. The poison was making me sick, even unto death… and the arrows never stopped coming. I was being bombarded constantly with more and more arrows from the wicked one.
The Holy Spirit had been gently explaining and showing all this to me, but then He suddenly exclaimed, "Look at the ground in front of you! Look what is at your feet!" I looked down at my feet. There it was… just laying there… my shield of faith.
The Holy Spirit exclaimed loudly, "Pick it up, and take hold of it!" I bent down and took it up and held it in front of my body. The devil did not stop shooting the arrows at me, but now they were hitting my shield of faith and falling to the ground instead of piercing through my chest. No more arrows. No more poison. So now I had to keep my shield up and work on getting the poison of the old arrows out through forgiveness, prayer, and repentance.
God was faithful. He heard my prayer for help, and He came to my rescue. The devil was attacking me viciously, and I did nothing to stop him because I didn't know how to. God showed me what I was doing wrong and how to change it. The Lord says, "My people are destroyed for lack of knowledge" (Hosea 4:6). Let's take up our shield of faith and renew our minds.
Ephesians 6:10-18 (NKJV) THE WHOLE ARMOR OF GOD – Finally, my brethren, be strong in the Lord and in the power of His might. Put on the whole armor of God, that you may be able to stand against the wiles of the devil. For we do not wrestle against flesh and blood, but against principalities, against powers, against the rulers of the darkness of this age, against spiritual hosts of wickedness in the heavenly places. Therefore take up the whole armor of God, that you may be able to withstand in the evil day, and having done all, to stand. Stand therefore, having girded your waist with truth, having put on the breastplate of righteousness, and having shod your feet with the preparation of the gospel of peace; above all, taking the shield of faith with which you will be able to quench all the fiery darts of the wicked one. And take the helmet of salvation, and the sword of the Spirit, which is the word of God; praying always with all prayer and supplication in the Spirit, being watchful to this end with all perseverance and supplication for all the saints….