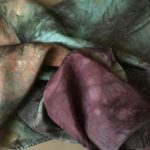 The name of this silk is Heart for the Lost. The colors in it are:
Golden brown representing humility and beauty for ashes
Light turquoise representing life-giving flow of the Holy Spirit 
Sage representing gentle restoration
Olive representing healing
Mahogany representing God's love poured out
Baby blue representing wind of the Spirit
The scriptures that go with it are:
Matthew 18:12-14 (NLT) If a man has a hundred sheep and one of them wanders away, what will he do? Won't he leave the ninety-nine others on the hills and go out to search for the one that is lost? And if he finds it, I tell you the truth, he will rejoice over it more than over the ninety-nine that didn't wander away! In the same way, it is not my heavenly Father's will that even one of these little ones should perish.
Matthew 18:6 (NLT) But if you cause one of these little ones who trusts in me to fall into sin, it would be better for you to have a large millstone tied around your neck and be drowned in the depths of the sea.
Psalm 62:6 (NET Bible) He alone is my protector and deliverer. He is my refuge; I will not be upended.
A Prophetic Nugget called "Let Love Supersede All" from our Dyed4you Ministries blog is connected to this.
Matthew 18:13-14 (GW) I can guarantee this truth: If he finds it, he is happier about it than about the 99 that have not strayed. In the same way, your Father in heaven does not want one of these little ones to be lost.

Beloved, I desire that not one would be lost. I AM not angry at those who have wandered away, I only long for their return. Will you walk in love and accurately reflect My heart so My beloveds know I ache for them? Will you withhold judgment, instead extending mercy and understanding? Will you resist the urge to indulge in self-righteousness and pride and instead be humble, long-suffering, compassionate, and full of grace? You are made in My image, reflect Me accurately.

Refuse to be the prodigal's older brother – resentful of the Father's love for the one who'd gone astray. Love in no way excuses sin, it simply says the person and their heart is more important. Be known by your love. Draw them home by your love. Let love change them. Let love change you. Let love supersede all.
Another Prophetic Nugget from our Dyed4you Ministries blog is connected to this. It is called "Accurately Reflect Me."
Luke 17:1-3 (GW) …how horrible it will be for the person who causes someone to lose his faith! It would be best for that person to be thrown into the sea with a large stone hung around his neck than for him to cause one of these little ones to lose his faith. So watch yourselves!…

Beloved, be mindful of your actions and how they affect others. Yes, you each have personal responsibility for your choices, but you do not want to be the one to cause someone to stumble or fall away just as you don't want someone to cause you to stumble or fall away.

Therefore it is vital you be like Me. Love like Me. Accurately reflect Me. This cannot be stressed enough. I see the full impact of careless words and thoughtless actions, and if you could fully grasp the effect they have you would feel the weight of them. They are not to be taken lightly.

My Word is there to instruct you in how to live. Beloved, eat it as though you were a starving man. It is good and nourishing to your soul. It brings forth life and teaches you to be like Me. So immerse yourself. Be saturated by the water of My word that you might pour out that living water in a dry and thirsty land.
And a final Prophetic Nugget from our Dyed4you Ministries blog is connected to this. It's called "Yield to My Sanctification."
John 17:17 (AMP) Sanctify them in the truth [set them apart for Your purposes, make them holy]; Your word is truth.

Beloved, allow yourself to decrease that I might increase within you. Yield to My refining process. Let Me burn away the dross leaving you brilliant and sparkling that you may shine blindingly brightly. This is My sanctifying process. The process by which you become more like Me – more radiant – that your countenance might glow from My glory. Waves of glory!

I have new levels for you. Shifting the atmosphere and opening up heaven to draw you in closer still to Me. Allow Me to gently change you into the fullness of all I've called you to be. Give the process the time it needs, the journey itself is a blessing and rushing the process only causes you to miss points along the way so yield to both My process and My pace. I will increase My blessings upon you. Receive it, beloved.

John 3:30 (NKJV) He must increase, but I must decrease.
He is calling out to His lost sheep. Beckoning them home. We are a vital part of that process because we are His. The world looks to us and judges His character based on His children. Fair or not. Right or not. It is truth. All we can control are our own actions and responses. Challenge yourself day after day to be more like Him. Reflect His heart to the world.
Hearing this call over the prodigals, "Your Daddy's not angry. Oh, your Daddy's not angry. Oh prodigal! Your Daddy's not angry. He's waiting with arms wide open. He's waiting for you. He's longing for you. You're always on His mind. The apple of His eye. The center of His heart" (the first portion of that is from a spontaneous song by Emily Board that came forth during the prayer room at UCity Family Church).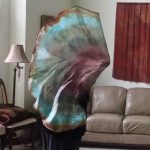 It has been prayed over and anointed with the Scent of Heaven's Accepted in the Beloved, which is used as reminder that we are accepted by Him, not rejected and abandoned, but cherished and adored; and also as a reminder that we should treat each other as the loving, supportive, accepting family He's called us to be. The scriptures that go with this anointing oil are:
Ephesians 1:6 (KJV) To the praise of the glory of his grace, wherein he hath made us accepted in the beloved.
Romans 8:14-16 (VOICE) If the Spirit of God is leading you, then take comfort in knowing you are His children. You see, you have not received a spirit that returns you to slavery, so you have nothing to fear. The Spirit you have received adopts you and welcomes you into God's own family. That's why we call out to Him, "Abba! Father!" as we would address a loving daddy. Through that prayer, God's Spirit confirms in our spirits that we are His children.
The deeper meaning of this oil shares that in Jewish culture, there is a step that happens where you mature and move into the fullness of adulthood; you are accepted into maturity. In the same way, you choose to become part of God's family and He receives you, accepts you wholeheartedly. No longer shamed, alone, or rejected, but a son and heir of the Father.  Belonging, adopted, cherished – accepted in the Beloved.
In the same way, we're called to love and accept our brothers and sisters in Christ. To bear with one another in love (Ephesians 4:2). We can and should choose to cultivate that nurturing culture, following Christ's example by humbly supporting, encouraging, and (above all) loving. The scent of this oil was intended to capture that warm, comforting feeling that being adopted by the Father should give you. The meanings behind the essential oils in this blend also capture things that a good family should represent and that the family of God – at their best – should look like.
Amber: mellow, warm, gentle, lingering, invigorating, luxurious, smooth, and uplifting.
Cypress: ageless, cleansing, freeing, strengthening those who are struggling, everlasting, resilient, in harmony, encouraging, and life-giving.
Tangerine: inspiring, balancing, refreshing, and strengthening.
We pray it blesses you!
NOTE: If you're wondering why I've shared this silk letter, I explain on my personal blog in a post called God Speaking Through Silk why I began sharing these on my personal blog. Later, I felt led to share some on the Dyed4you Ministries blog as well. So I share some here and some there (you can find the ones there in the silk words category). To find out more about the words we birth – including how they are created and what is typically included – visit our About Our Silk Letters and Art Words page.
And though I don't post these for the purpose of selling them, I know sometimes one will just grab you and you KNOW you're supposed to have it. If that's the case you can check on Dyed4you Readymade to see if I have one completed already or you can see what types of products I offer and request I make you one in this style.