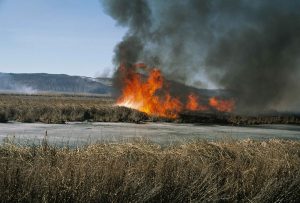 Beloved, refuse to resist the "prescribed burns" of My holy fire. In the same way that farmers will burn their fields to the ground to encourage enriched regrowth, so will I bring what appears to be brutal devastation for the purpose of bringing forth new life. This seeming destruction may feel at odds with My character, which you know to be good, but when you embrace the fiery season, it becomes more life-giving than you could begin to imagine.
The seasons can often feel like death is all around you, but in reality these moments are a precursor to life more abundant. There is a necessary clearing away of that which inhibits greater growth that must occur for you to reach your full potential. So trust Me completely and hold fast to My hand. Allow the discomfort of these seasons to become an offering to Me – as though you are laying on the altar with the flames of My fire surrounding you. Resist the urge to second-guess My motives or make accusation, and simply trust that My heart toward you is good.
And as you surrender to Me through the hard seasons, do so with joyous hope – waiting for the triumphant glory to come. For if you know My heart, you know that abundant life is on the horizon. And look, beloved, a new day is dawning, and life is bursting forth.
Isaiah 61:3-4(NKJV) To console those who mourn in Zion, To give them beauty for ashes, The oil of joy for mourning, The garment of praise for the spirit of heaviness; That they may be called trees of righteousness, The planting of the Lord, that He may be glorified." And they shall rebuild the old ruins, They shall raise up the former desolations, And they shall repair the ruined cities, The desolations of many generations.

John 12:24 (VOICE) I tell you the truth: unless a grain of wheat is planted in the ground and dies, it remains a solitary seed. But when it is planted, it produces in death a great harvest.