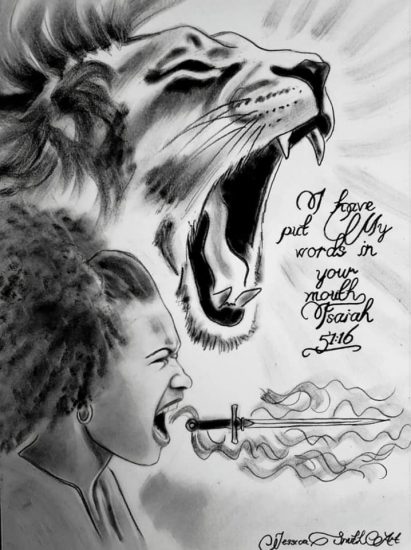 This is a word the Holy Spirit whispered in my ear one morning as I was waking up. His words came to life as they were played out in a vision.
The Holy Spirit said to me, "THERE'S STRENGTH IN THE COMMAND! WHEN YOU GIVE THE COMMAND IT THEN BECOMES A SPEAR THAT YOU THROW AT THE ENEMY!"
I saw spears so thick and tall and fatal being hurled with incredible accuracy and deathly speed at the spiritual enemies of our souls!
This is the reality of the declarations and commands of faith in the mighty name of Jesus! There is strength in our verbal commands against the devil in the authority of Jesus. More than we realize.
Don't become discouraged or hopeless when your rebukes, declarations and commands don't seem to be working. They are. Sometimes a demonic giant is so big it takes many spears to bring it down. Dig your heels in and hurl those verbal spears at the enemy. Renounce him. Rebuke him. Command him to leave.
Declare who Jesus is and what His blood accomplished for you on the cross. Command the enemy out of your marriage, away from your children, out of your body, out of your house. Name the bondages and fiercely rebuke them. Command life to your sick body. Command hope to your depressed soul. Command peace in the midst of chaos. And so forth. You are a warrior and your weaponry is mighty in the tearing down of strongholds.
2 Corinthians 10:4 (AMP) The weapons of our warfare are not physical [weapons of flesh and blood]. Our weapons are divinely powerful for the destruction of fortresses.