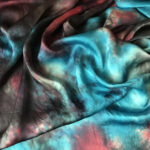 The name of your silk is YHVH Sabaoth (Lord of Hosts). The colors in it are:
Turquoise representing spiritual warfare
Maroon representing shed blood
Black representing crushing the enemy
Silver shimmer representing angelic presence
Sabaoth / Ts'vaot or Tsaba (Hebrew for hosts) means that which goes forth, army, war, warfare, host. YHVH Sabaoth denotes His universal sovereignty. He is the one who goes forth and leads the army.