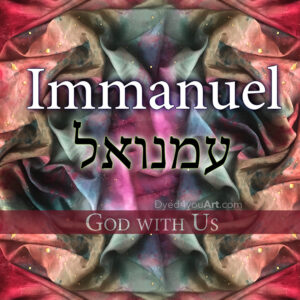 This is our Immanuel flag, which features our Catalyst to Intimacy silk. This flag is part of our "Names of God" Dyed4you Art flag line. Each of these flags features an image of a related Dyed4you silk, the word for which is included as part of the word that goes with this flag. Additionally, these flags are anointed with the same oils as the original silks.
The Hebrew lettering on this flag says "Immanuel," which means "God with us." This name comes from:
Isaiah 7:14 (NKJV) [emphasis mine] Therefore the Lord Himself will give you a sign: Behold, the virgin shall conceive and bear a Son, and shall call His name Immanuel.