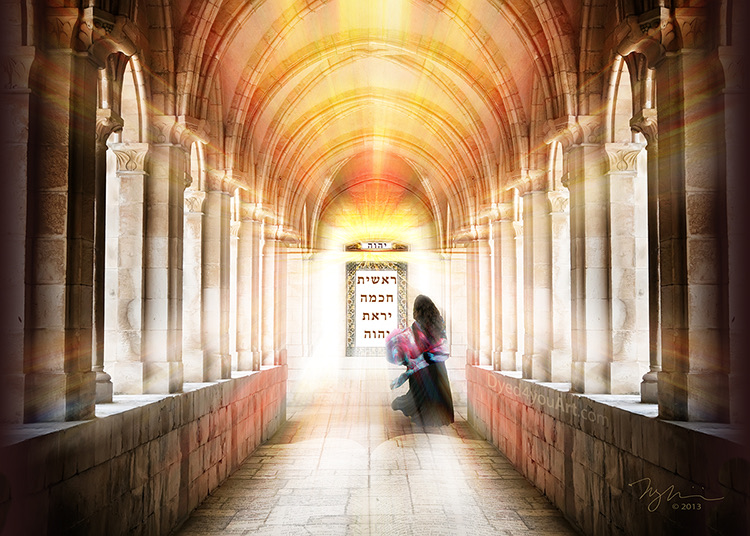 This is a series of Prophetic Nuggets from "Daily Downloads from Heaven" by Meghan Williams that are connected by scripture / theme. It is a series of six Prophetic Nuggets based on James 3:13-18 (VOICE):
Who in your community is understanding and wise? Let his example, which is marked by wisdom and gentleness, blaze a trail for others. If your heart is one that bleeds dark streams of jealousy and selfishness, do not be so proud that you ignore your depraved state. The wisdom of this world should never be mistaken for heavenly wisdom; it originates below in the earthly realms, with the demons. Any place where you find jealousy and selfish ambition, you will discover chaos and evil thriving under its rule. Heavenly wisdom centers on purity, peace, gentleness, deference, mercy, and other good fruits untainted by hypocrisy. The seed that flowers into righteousness will always be planted in peace by those who embrace peace.
The first Prophetic Nugget is called "Demonstrate Godly Wisdom."
James 3:13 (NLT) If you are wise and understand God's ways, prove it by living an honorable life, doing good works with the humility that comes from wisdom.

Beloved, lead by example, but do so as one who knows My ways that you may not lead others astray. Walk in righteousness – fully aligned with My Word. Do good and love well. Be a person of humility, and one who walks in honor.

See with My eyes and be lead by My Spirit. Be kind and long suffering. May you extend patience beyond even that which you'd hope to receive. Let all this fruit demonstrate your godly wisdom to choose to walk with Me.
The second Prophetic Nugget is called "Worldly Judgment is Flawed."
James 3:14 (NLT) But if you are bitterly jealous and there is selfish ambition in your heart, don't cover up the truth with boasting and lying.

Beloved, resist the urge to "keep up with the Joneses," or feel a need to put on a false front. Trust Me to lead you rightly and meet every need. Refuse to covet that which belongs to another. Instead rejoice with them, and be grateful for all you've been given.

There is no need to posture or lie to impress, for who would you seek to please above Me? Rather be singular in your focus. Keep your eyes and heart fixed on Me. Know that the world's judgment is flawed, so refuse to curry its favor or seek its approval. I AM all you need.
The third Prophetic Nugget is called "Be Kingdom Minded."
James 3:15 (NLT) For jealousy and selfishness are not God's kind of wisdom. Such things are earthly, unspiritual, and demonic.

Beloved, love those I have placed in your life – both the lovable and the challenging. Encourage them and build them up. Seek out ways to support that which I have called them to. Trust that there is room for all of you in My plans. Refuse to allow your own needs and interests to be your sole focus.

Be Kingdom minded. Think of what is for the greater good. Walk in humble obedience, and speak words of life. Prophesy, beloved. As you show yourself to be an example of godly wisdom, you bring glory and honor to Me. Allow that to be its own reward.
The fourth Prophetic Nugget is called "Measure By My Standards."
James 3:16 (NLT) For wherever there is jealousy and selfish ambition, there you will find disorder and evil of every kind.
Beloved, refuse to open the door for the kingdom of darkness. Those who succumb to jealousy and greed are not operating in My flow. Being obsessed with your own interests is counter to the way I move. If you are not working with Me, you're working against Me. So refuse to take the bait.

Refuse to be drawn in by the world's system. Refuse to fall prey to comparisons with others. Seek Me. Seek My plans for you. Be content, and overflow with gratitude. Each person has been given their role – their call, so seek to walk in the fullness of that which I've called you to.

Refuse to allow petty jealousies to distract you. Whose standard will you measure by? Mine is the only one that matters. So seek to fulfill what I have ordained for you with excellence and fullness of joy. Refuse to be derailed or drawn off track.

The fifth Prophetic Nugget is called "Simply Reflect Me."

James 3:17 (NLT) But the wisdom from above is first of all pure. It is also peace loving, gentle at all times, and willing to yield to others. It is full of mercy and good deeds. It shows no favoritism and is always sincere.

Beloved, the fruit of true wisdom is sweet. It is easily recognizable, and tastes of Me. It is pure and cultivates harmony. It builds up and encourages that which is good. It is founded in truth and My Word. It isn't self-seeking or unkind. It's merciful, and encourages goodness.

Those who walk in this wisdom, seek to understand. They listen well – to men and to Me. They embrace that which is right, and inspire righteousness and mercy. They refuse to walk in judgment, but rather from a heart of love they seek to bring all into alignment with Me. They are genuine, and walk in sincerity. Their ultimate goal is to simply reflect Me.
The sixth Prophetic Nugget is called "Cultivate an Atmosphere of Peace."
James 3:18 (NLT) And those who are peacemakers will plant seeds of peace and reap a harvest of righteousness.

Beloved, do more than simply walk in godly wisdom – cultivate it in those around you. Encourage them to bear fruit. Work together to walk in unity. Be intentional to inspire one another to pursue righteousness. Allow joy to be your strength, and share one another's burdens.

For truly the Body of Christ is called to live in peace and love. You are called to strengthen one another and encourage one another towards that which is good. Create an atmosphere of peace. Reflect Me – YHVH Shalom, the Lord your peace. For living in this manner is the greatest testimony you can share and it is achieved without a word.