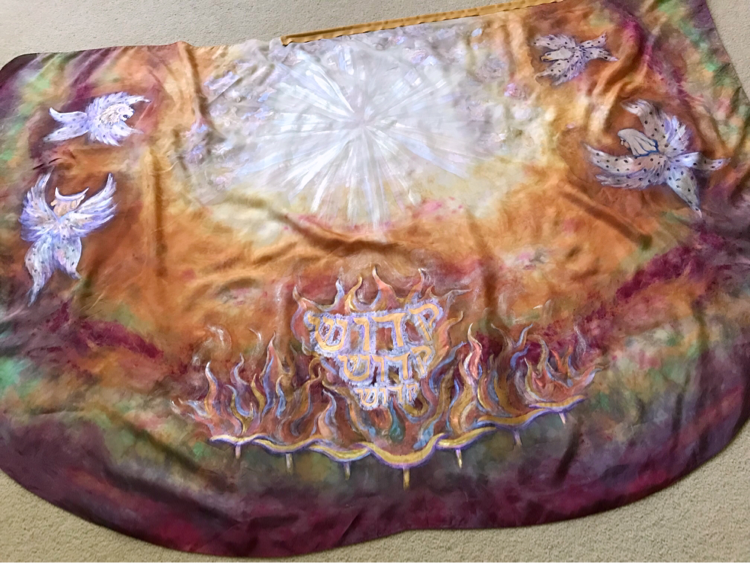 Beloved, look toward the heavens and hear the distant rumble of thunder. Be drawn toward the ever-increasing rolling rumble, punctuated by the staccato of lightning flashes. The thunder is like the surrounding voice of many waters, sounding as deep as the sea and coming from everywhere all at once.
Be ushered into My presence where you witness the most glorious of scenes: My throne room, full of light and glory, full of magnificence, overflowing with sound and activity. Be swept into My presence and fall before Me under the weight of My glory. The thunder grows and erupts into a loud crescendo as the heavenly creatures circle My throne, continually crying, "Holy, holy, holy, Lord God, the Almighty, who was, who is, and who is coming."
Join your voice with the four living creatures giving thanks, adoration, and praise, while the 24 elders bow face down in worship to Me, overwhelmed by the glory of My presence. What a magnificent sight unfolds before your eyes: whenever the creatures give glory, honor, and thanks to the One seated on the throne, the One who lives forever and ever, the 24 elders who are seated on 24 thrones around My throne, fall down before Me in heavenly worship. They cast their crowns before Me and cry, "Our Lord and God, You are worthy to receive glory and honor and power, because You have created all things and because of You will they exist and were created."
I invite you to let your heart and your spirit soar to this new height. Lift your voice in unbridled praise and worship of the One who sits on the throne, the One who loves you with an everlasting love, the One who never ends! Let your heart be set ablaze with fresh adoration and praise of Me. Even as I provided fire from heaven for the altar of sacrifices in days of old, I have provided the fire in your heart that kindles your first love for Me.
I charged Aaron, the Levite priest, to keep the fire on the altar burning and never let it go out. He was to get up daily and add wood to the fire that I had first provided. He tended to it first thing in the morning, making sure the fresh wood was added and the fire stoked so it would not go out. Daily he spent time in My presence tending My fire. The fire I provided on the altar was not made by man, but came directly from Me. It is a type and shadow of the invitation that awaits you daily—to come and tend the fire of your love for me. It speaks of relationship: I provided that first fire of pure love to your heart, just as I provided the holy fire for the altar with Aaron.
Beloved, come and spend time with Me. Experience My very tangible fire of love for you as you come daily into My presence. It is not an invitation to partake of lifeless form and legality, but rather an invitation to immerse yourself in Me and the true life of the spirit I offer you. These lapping tongues of fire are to freshly burn in you. It is a blessing to you and not a drudgery. It is not a heavy legal obligation, but it is a joy and the source of freshly flowing life for you.
This time spent with Me is not only revitalizing, refreshing, and essential to your well being, but you will learn My heart for you in ways that cannot be duplicated through any other means. I am wholly for you and love to spend time with you, My beloved. Don't hesitate to come before Me. I know and love everything about you. There is nothing in your past, present, or future that I am not aware of. I long to spend time with you and share My heart with you. There is no shame in My presence, only My great depth of love for you that burns within Me. Come and stoke the fire I first set ablaze for you and in you.
Leviticus 6:13 (AMP) — The fire shall be burning continually on the altar; it shall not [be allowed] to go out.

Isaiah 6:1 (AMP) — In the year that King Uzziah died, I saw [in a vision] the Lord sitting on a throne, high and exalted, with the train of His royal robe filling [the most holy part of the] temple.

Revelation 4:1-2 (TPT) — Then suddenly, after I wrote down these messages, I saw a heavenly portal open before me, and the same trumpet-voice I heard speaking with me at the beginning broke the silence and said, "Ascend into this realm! I want to reveal to you what must happen after this." Instantly I was taken into the spirit realm, and behold—I saw a heavenly throne set in place and someone seated upon it.