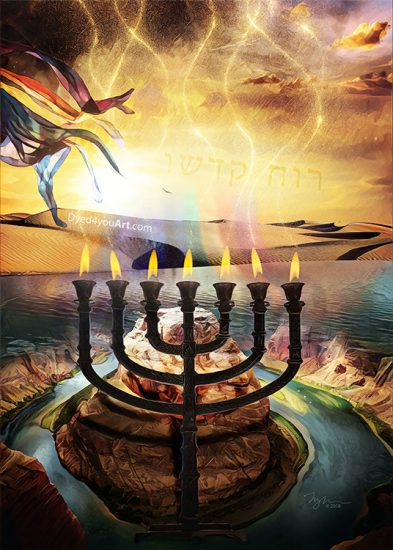 This is a series of seven Prophetic Nuggets from "Daily Downloads from Heaven" by Meghan Williams that are connected by scripture / theme. It is a series of Prophetic Nuggets based on the Seven Spirits of God from Isaiah 11:2-3 (AMP):
And the Spirit of the Lord will rest on Him— The Spirit of wisdom and understanding, The Spirit of counsel and strength, The Spirit of knowledge and of the [reverential and obedient] fear of the Lord — And He will delight in the fear of the Lord, And He will not judge by what His eyes see, Nor make decisions by what His ears hear;
The first Prophetic Nugget is called "Spirit of the Lord."
Luke 4:18 (VOICE) The Spirit of the Lord the Eternal One is on Me. Why? Because the Eternal designated Me to be His representative to the poor, to preach good news to them.

Beloved, be My voice. Open your mouth and trust Me to fill it. Allow My Spirit to flow through you, to inspire thought and action, to give vision of the unseen, and to bring prophetic revelation in My perfect timing. Trust, and yield to My flow.

As you partner with My Spirit, you will see the miraculous take place. The supernatural will become as if it were common so clear and continuous its evidence. The gifts of My Spirit alive and on display for all to see. The beauty of My glory manifest on earth and in the heavens. Choose, beloved, choose to yield and flow in Me.
The second Prophetic Nugget is called "Spirit of Wisdom."
Exodus 31:3 (VOICE) I have filled him with God's Spirit, gifted him with wisdom, understanding, knowledge, and skills with a variety of crafts.

Beloved, I have gifted you with ideas and insights that supersede natural ability. Walk in the fullness of what you have been given. Trust My Spirit of Wisdom to be upon you that you might know things you did not know and be gifted in ways you did not expect.

Expect the unexpected from Me, beloved, for I delight to see My Spirit at work in you. I will grant you a way of seeing things that is unique and I do so for My purpose. Magnify Me, beloved, with your words, actions, and deeds. What you do, do in excellence to honor Me.

Whatever craft I have laid your hands to, do it for my glory. Flow in My Spirit of Wisdom. Know the ideas that come from Me when they arrive, and execute them for My glory.

Ephesians 1:17 (AMPC) [For I always pray to] the God of our Lord Jesus Christ, the Father of glory, that He may grant you a spirit of wisdom and revelation [of insight into mysteries and secrets] in the [deep and intimate] knowledge of Him,
The third Prophetic Nugget is called "Spirit of Understanding."
Exodus 31:3 (AMP) I have filled him with the Spirit of God in wisdom and skill, in understanding and intelligence, in knowledge, and in all kinds of craftsmanship,

Beloved, I have gifted you not just with wisdom, but with an understanding of what to do with that wisdom. When I grant you insight, you understand what is to be done with it. When I gift you with an idea, you understand how to execute it. Acknowledge the source of that understanding, for it flows from Me alone.

Cherish the gift you have been given. Share it liberally with others in the Body. Simply because it comes easily to you does not mean it is of no value, it is a gift; therefore, recognize it as one. With reverence and honor flow in My Spirit of Understanding.

And, beloved, if you feel as though you lack understanding, ask Me for it. For you know I AM a generous God and I love to bless My children. So ask in faith and expectantly wait to receive.
The fourth Prophetic Nugget is called "Spirit of Counsel."
Isaiah 9:6 (NLT) For a child is born to us, a son is given to us. The government will rest on his shoulders. And he will be called: Wonderful Counselor, Mighty God, Everlasting Father, Prince of Peace.

Beloved, you have but to ask to receive My counsel. I AM Gelah Raz, the Revealer of Mysteries, and the only wise God. Who might you query for insight that would have greater wisdom than I? There is safety in a multitude of counselors, but be certain to include the God of Wisdom in that number. Seek Me first and seek Me often. I delight to instruct you.

I give purpose. I grant insight. I download revelation. I give dreams and visions. And I do all this for those who ask. So, beloved, keep your heart in a constant state of receptivity that I might counsel you day or night, asleep or awake – keep your spiritual senses open and be ready to receive, for I AM speaking. Flow in My Spirit of Counsel.

Isaiah 9:6 (VOICE) Hope of all hopes, dream of our dreams, a child is born, sweet-breathed; a son is given to us: a living gift. And even now, with tiny features and dewy hair, He is great. The power of leadership, and the weight of authority, will rest on His shoulders. His name? His name we'll know in many ways— He will be called Wonderful Counselor, Mighty God, Dear Father everlasting, ever-present never-failing, Master of Wholeness, Prince of Peace.
The fifth Prophetic Nugget is called "Spirit of Might."
Judges 14:6 (NKJV) And the Spirit of the LORD came mightily upon him, and he tore the lion apart as one would have torn apart a young goat, though [he had] nothing in his hand. But he did not tell his father or his mother what he had done.

Beloved, in your weakness My strength is made perfect. Allow My strength to be made manifest in you, for I AM a Mighty God – El Gibbor, and I AM YHVH Sabaoth – the Lord of Hosts. Who can stand against those who stand with Me?

Be of good courage and stand in faith. Yield to My Spirit of Might and allow My Spirit to flow through you in power and authority. Empowered by My Spirit, victory is always assured. You need not operate in strength of the flesh, for My Spirit is all you need. You will stand, you will withstand, and you will succeed.
The sixth Prophetic Nugget is called "Spirit of Knowledge."
2 Chronicles 1:10 (CSB) Now grant me wisdom and knowledge so that I may lead these people, for who can judge this great people of yours?

Beloved, I AM the revealer of mysteries. Look to Me to show the truth of a matter – to bring revelation and discernment. If you will call to Me, I will tell you things you do not know, and it is My joy to do so.

Operate in the Spirit of Knowledge, beloved. Allow your senses to be open to My download even in moments you least expect it or don't realize it's needed. I cut through the fog of confusion and bring stark clarity. Receive, beloved, receive.
The seventh Prophetic Nugget is called "Spirit of the Fear of the Lord."
Job 28:28 (CSB) He said to mankind, "The fear of the LORD –that is wisdom. And to turn from evil is understanding."

Beloved, as you see Me as I AM, you cannot help but be moved by My holiness and respond in kind. In reverential fear, choose to reject that which is evil and turn your back on sin. Resist temptation.

Allow your heart to be so tender that a gentle whisper from My Spirit brings conviction and change. Willingly yield to My Spirit, beloved, and choose to flow in the Spirit of the Fear of the Lord.